 Rutherford County Chancery Court Celebrates New Electronic Filing System
Four years of hard work and planning paid off for the Chancery Court of Rutherford County. Clerk and Master John Bratcher reported that with almost 3,000 case filings each year, the need was created for an efficient way for cases to be filed and managed and electronic filing (e-filing) recently made its debut. Bratcher and his staff had been working toward e-filing for about two years when then Chief Justice Sharon Lee called him about two years ago and asked for Rutherford Chancery to be a pilot project for the State.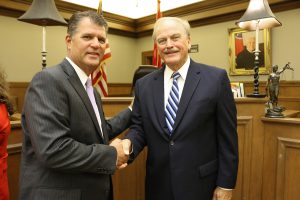 E-filing allows attorneys and self-represented litigants to file court documents without printing hard copies and making a trip to the courthouse leading to significant cost savings to the public, attorneys, litigants, and the courts. Several courts throughout the State are actively evaluating the e-filing process in Rutherford County with the intention of implementing it in their counties.
The Tennessee Administrative Office of Courts (AOC), headed by Director Deborah Taylor Tate, already owned case management software (TnCIS) used by Courts in 90 of Tennessee's 95 counties, but the software did not include an e-filing package.
In an outstanding example of public/private cooperation, the State under Tate's guidance worked with the State Legislature, Rutherford County Chancery Court, Rutherford County Office of Information Technology, Tybera Development Group, Inc., Local Government Data Processing Corporation, and Sturgis Webb Services to integrate the Tybera e-filing system with TnCIS at no cost to the tax payers of Tennessee or Rutherford County.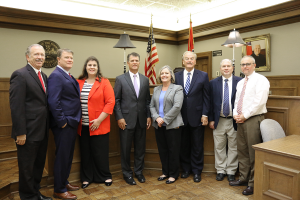 Tate said "we are always looking for new and innovative ways to make court business more efficient for everyone throughout the process. Moving from a paper-based to a primarily electronic system will benefit everyone involved."
Bratcher concurred saying "over 1,100 documents per week are filed in our court, and that amounts to tens of thousands pieces of paper per month. We had to move in this direction."
Chancellor Howard Wilson agreed with Bratcher and stated that "we look forward to the time when our Circuit Court and all of the other State Trial Courts come on line with e-filing."
The types of cases handled by the Chancery Court include: divorce, workers compensation; adoption; paternity, orders of protection; child support; conservatorships,; guardianships, probate, real estate matters, name changes,; and more.
To celebrate the launch of Rutherford County Chancery Court's e-filing program, a ribbon cutting was held on Monday, September, 11, 2017, at the Rutherford County Judicial Building. Hosted by Chancellor Howard Wilson and Clerk and Master Bratcher, the celebratory affair was attended by State Representative Dawn White, Judge David Bragg, Judge Mark Rogers, Rutherford County OIT Director Brian Robertson, AOC Director of Information Technology Ann Lynn Walker, Tybera CEO Dallas Powell, Local Government Data Processing Corporation CEO Bruce Collier, Circuit Court Clerk Melissa Harrell, County Clerk Lisa Crowell, several attorneys, and deputy court clerks from the various Rutherford County Courts.